What's In It For Me?
Flood damage can cause serious problems in your home. To prevent you from being left with thousands of dollars in flood damage, it's important that you take out flood insurance on your property.
Most home insurance plans do not cover flooding, which means that many homeowners think they are protected, when in all actuality, they are not.
Flood insurance is relatively inexpensive, and can be made even cheaper by participating in FEMA's community rating program, or by flood-proofing your own home.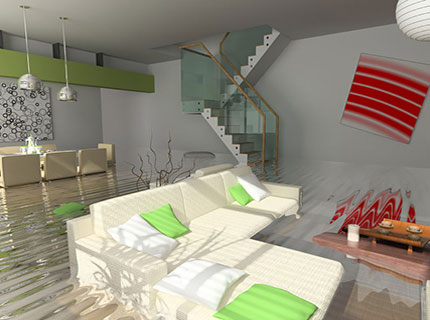 Flood Insurance - Is It Really Necessary?
Flooding can have a disastrous effect on your home. The water damage can soak through walls and floors, turning your living room into a disaster area. But you're safe because you have flood insurance, right? Wrong! Unfortunately, many house insurance plans don't cover flood damage, meaning that you'll have to purchase additional flood insurance.
And, even if your home insurance does offer flood protection, it could be worth such a small amount that it would barely cover an accident. Since house flooding is one of the most unexpected accidents that can happen to your home, it's important to get the coverage that you need.
Flood insurance is relatively inexpensive and easy to order. The amount of money that you pay will depend on the location of your home. Generally, insurance agencies will examine a topographical map of the region around your home to determine if it sets on a flood plain or lowland area. The more at-risk your home is for experiencing a flood, the higher your flood insurance will be.
Fortunately, the amount you pay for your flood insurance can be reduced by taking advantage of various discounts.
FEMA Community Discounts: FEMA awards communities a rating according to their level of preparedness for a flood. A Class 1 community can receive a 45% discount on their insurance, while a Class 9 receives a 5% discount. FEMA takes into account things like public information services, mapping and regulations, and damage reduction measures in order to determine this rating. If you're in an at-risk community for flooding, then it may be in your best interests to start promoting flood safety plans and other similar services in your area to increase this rating.
Flood-Proof Your Home: Many insurance agencies will offer a discount if you install flood preparedness measures into your own home. For example, make sure your drains and gutters are directing water away from the house, instead of towards it. If not, then you may need to adjust the grade or slope of your home. Similarly, you may want to coat foundation walls in a sealant to flood-proof the interior of your house. While you're doing this, coat any foundation-level doors and windows in sealant as well.
Like many disasters, flooding is something that few people except to happen to their home. If you don't have the right flood insurance protection, you could end up paying thousands of dollars in home repair costs. Talk to your insurance provider today to ensure you have the best coverage.
So What!?!
1.)
Just because a flood has never occurred in your community, does not mean that you are not at risk.
2.)
Nearly 25% of all flood insurance claims come from areas that have minimal flood risk.
3.)
A home built in a high-risk area is five times more likely to suffer damage from a flood than a fire over the course of 30 years.
4.)
Homes located in a floodplain have a 26% chance of suffering from flood damage over the course of 30 years.
To get your Free Consultation with a Flood Insurance expert, simply Click The Button Below:

Get flood insurance information delivered directly to your inbox.
Our reputation depends on the security of your personal information.
There will be no spam and no unwanted email.